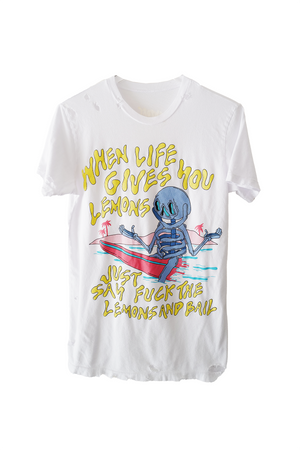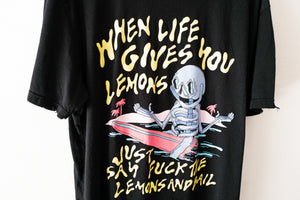 LIFE GIVES YOU LEMONS S/M
WHEN LIFE GIVES YOU LEMONS, JUST SAY FUCK THE LEMONS AND BAIL - Kunu

NEWPORT BLEACH x EMMA ATTERBURY

-Made in Orange County, CA
-Puff + Waterbased 6 Color Print
-30 Single 50% Lenzing Modal/50% premium combed cotton
-Hand Distressed (The rips and holes are meant to be there)
-Buttery soft and very light.
-4.3oz Eco-Hybrid Shirt

PLEASE NOTE: This is a new smaller size silhouette.  If your super short this is the one for you, fits like a slim fit Medium.